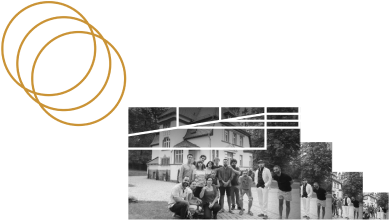 Ten young filmmakers from all parts of Europe meet with several prolific members of the European Film Academy over a weekend. The private atmosphere guarantees a platform for inspiration and for an open-minded encounter. It is an exchange between different generations of filmmakers from various cultural backgrounds – most important for the future of rising talents and the future of European film.
A Sunday in the Country was initiated in 1995 and is organised in co-operation with different local partners.
In 2012, an edition with young film journalists and critics was initiated and has successfully been running every year since then with our partners at the New Horizons Film Festival in Wroclaw/Poland and supported by various cultural institutions.
The idea is to learn from each other through the exchange of experience and to build border-crossing personal networks.
The subjects that are intensively discussed vary from financing and production conditions in the home countries of the young filmmakers who are curious to learn about their colleagues' personal conditions, their cultural backgrounds, their different ways of storytelling (local heroes – European audiences) and technical questions. The programme includes screenings of films of the participants and the attending European Film Academy members.
A Sunday in the Country