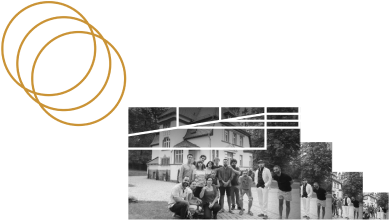 Ten young filmmakers from all parts of Europe meet with several prolific members of the European Film Academy over a weekend. The private atmosphere guarantees a platform for inspiration and for an open-minded encounter. It is an exchange between different generations of filmmakers from various cultural backgrounds – most important for the future of rising talents and the future of European film.
A Sunday in the Country was initiated in 1995 and is organised in co-operation with different local partners.
In 2012, an edition with young film journalists and critics was initiated and has successfully been running every year since then with our partners at the New Horizons Film Festival in Wroclaw/Poland and supported by various cultural institutions.
The idea is to learn from each other through the exchange of experience and to build border-crossing personal networks.
The subjects that are intensively discussed vary from financing and production conditions in the home countries of the young filmmakers who are curious to learn about their colleagues' personal conditions, their cultural backgrounds, their different ways of storytelling (local heroes – European audiences) and technical questions. The programme includes screenings of films of the participants and the attending EFA members.
2020 - A Sunday in the Country Celebrates Online Reunion
During Coronacrisis, Online Reunion Gathers Former Participants from Across Europe
For many years, the New Horizons International Film Festival and the European Film Academy have been co-operating in the framework of a special edition of the EFA's A SUNDAY IN THE COUNTRY: Instead of filmmakers, this version brings together a group of young film journalists and critics from across Europe – to learn from each other through the exchange of experience and to build border-crossing personal networks. They cook together, watch films and discuss with the directors.
Such a personal get-together was unfortunately not possible in these times. Instead, there was an online reunion bringing together participants from the past eight editions!

In these extraordinary times, when film premieres and festivals are cancelled or postponed, the reality of those who write about film has changed dramatically. While restrictions in many countries are slowly and partially lifted, this is not the case everywhere and most of us remain somewhat locked at home. How are people coping? What are they doing? Is there a support scheme that helps journalists through these times? These are some of the issues discussed during the meeting.
After a round of introductions, we were joined by Polish director Jan Komasa, who has won several Polish Film Awards with his film CORPUS CHRISTI and was eager to talk to us about film criticism and the current situation. We then addressed the current situation across Europe, how people can or cannot work, what associations and governments have done to help. What will change, for the better or worse.
2019 - Una Domenica in Campagna
This edition of A SUNDAY IN THE COUNTRY took ten participants from eight different countries to the Casa Rossa, a former farm house turned into holiday home in the Italian countryside.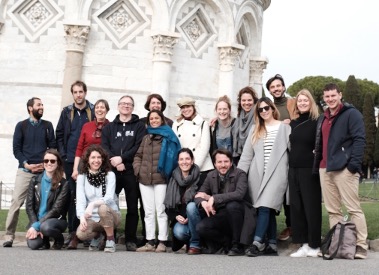 Here, they were welcomed by host Manfredi Lucibello (director, Italy), two dogs and EFA Members Jukka-Pekka Laakso (managing director, Tampere Film Festival, Finland) and Rebecca O'Brien (Producer, UK) to screen and discuss their films in informal surroundings.
Situated close to Pisa in Tuscany, the encounter kicked off with a walk to the neighbouring bird sanctuary, and included a cooking class to learn how to make your own pasta and an excursion to the city of Pisa and the Manifatture Digitale Cinema. As always, however, the main focus was on watching each other's films, talking about them, and on building up an international network.

The participants were:
Ana-Maria Comanescu
Ása Helga Hjörleifsdóttir
Elettra Fiumi
Emanuela Mascherini
Hristo Simeonov
Karoline Lyngbye
Marko Djordjevic
Sarah Hirtt
Tommaso Landucci
Udita Bhargava

2019 - Politics and Art and Writing About Film
In its eighth edition, A SUNDAY IN THE COUNTRY for young film critics & journalists moved to a new location – Sowia Dolina in Pieszyce. The idea remained the same: to learn from each other through the exchange of experience and to build border-crossing personal networks. Organised in co-operation with the New Horizons International Film Festival Wroclaw, the meeting brought eight participants together to spend the days watching films and discussing them, cinema and cinephilia in general, and life as a film journalist. In between there was cooking and eating together, and networking in a charming old villa in the Owl Mountains. Expert for this edition was the Italian critic Tommaso Tocci.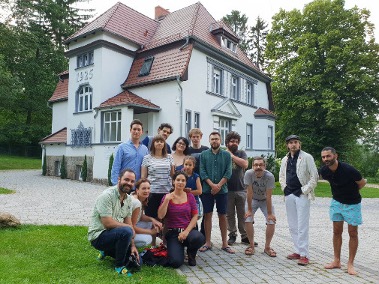 After an introduction circle on Sunday night, the screening programme kicked off on Monday with DIRTY GOD. The Dutch director Sacha Polak joined the group together with her Greek colleague Syllas Tzoumerkas. The latter made THE MIRACLE OF THE SARGASSO SEA which was next on the screening schedule and together they joined the group for an intense and passionate debate before, during and after lunch until it was time to sing happy birthday for our Italian expert.
After breakfast on Tuesday, the group watched FUGUE by Agnieszka Smoczynska. After a great discussion with the director about the relationship between filmmakers and critics and a lovely pasta lunch prepared by our Italian expert, the final film was the DIVINE LOVE by Gabriel Mascaro, followed by a lively conversation about sex and politics.
The group was composed of eight people from seven different countries: Alejandro Avila from Spain, Georgiana Mușat from Romania, Klaudia Rachubińska and Maciej Kryński from Poland, Marian Wilhelm from Austria, Márton Mészáros from Hungary, Sergio Sozzo from Italy and Stanislas Ide from Belgium.
The project was organised by the European Film Academy and New Horizons Association with the support of the Polish Film Institute, the local cultural institutes and the Krzysztof Mętrak competition for young film critics.
A Movie Bubble of Pleasure in Poland by Stanislas Ide
A Dreamlike (and Film-Like) Summer With the European Film Academy by Alejandro Ávila
2018 - Ein Sonntag auf dem Lande in Yspertal
At the end of June 2018, this edition of A SUNDAY IN THE COUNTRY kicked off with a get-together and brunch at the Austrian Film Academy.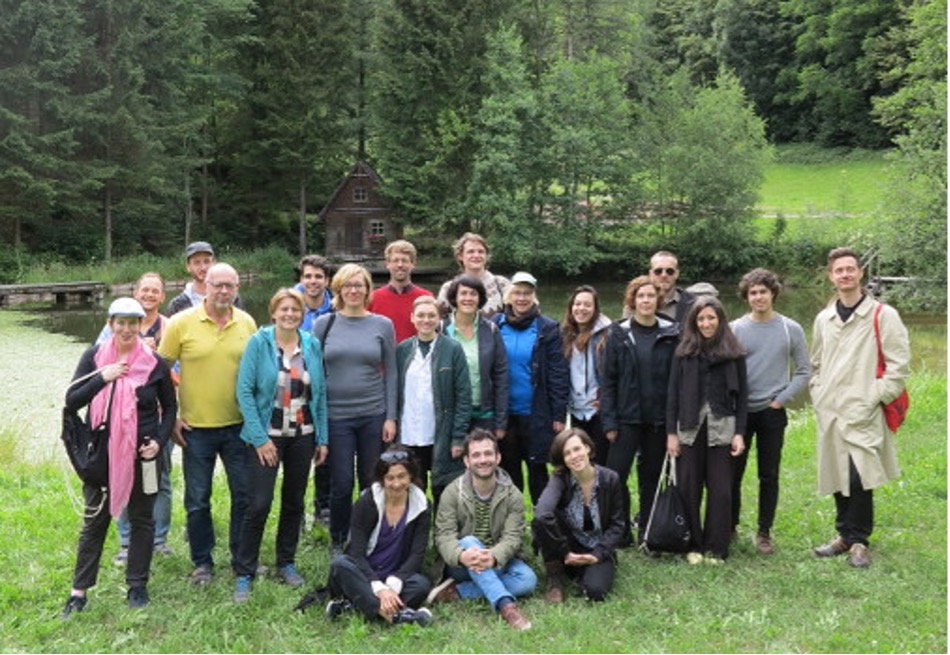 The actual meeting took place at a farm in Yspertal in Lower Austria where ten young filmmakers met the established Austrian EFA Members Josef Aichholzer (producer) and Florian Pochlatko (director), Florian Weghorn (program manager at Berlinale Talents, Germany) and Jessica Woodworth (director, Belgium / USA) to screen, discuss and exchange their films in informal surroundings.
The participants were:
Amanda Kernell (Sweden)
Clara Stern (Austria)
David Pinheiro Vicente (Portugal)
Jakob Brossmann (Austria)
Jonas Rothlaender (Germany) watch interview
Luis López Carrasco (Spain)
Luz Olivares Capelle (Austria) watch interview
Nora El Hourch (France) watch interview
Raitis Abele (Latvia)
Ulla Heikkilä (Finland)

The encounter included a hike through the magical Yspertal, reflections on European cinema and communal cooking experiences and the actual screenings took place either in the local Stadelcinema or inside the barn, always followed by animated discussions.
Back in Vienna, the participants were welcomed at a relaxed get-together with members of the Austrian Film Academy, followed by dinner at a typical Viennese Heurigen (wine tavern).
This edition of A SUNDAY IN THE COUNTRY was held in co-operation with the Academy of Austrian Film and with the support of the Medienboard Berlin-Brandenburg GmbH.