Month of European Film 2023 kicks off a dynamic season full of European cinema
Second edition with a record participation of 75 cinemas in 40 countries
After a successful pan-European launch in 2022, the European Film Academy presents the Month of European Film 2023 as Europe's own film and award season. Starting on 1 November, it celebrates the diversity of European film for six weeks until its grand finale on 9 December with the European Film Awards in Berlin. Across Europe, thanks to the Academy's partner Europa Cinemas, flagship cinemas in 40 countries from Iceland to Greece, from Portugal to Georgia – including capital cities, small towns and national cinema networks – highlight European films, presenting special programmes, events and dedicated retrospectives. At the same time, the global streaming platform MUBI presents a special focus on European films, and for the first time, the VOD portal DAFilms highlights a selection of European documentaries, both allowing film lovers around the world to participate.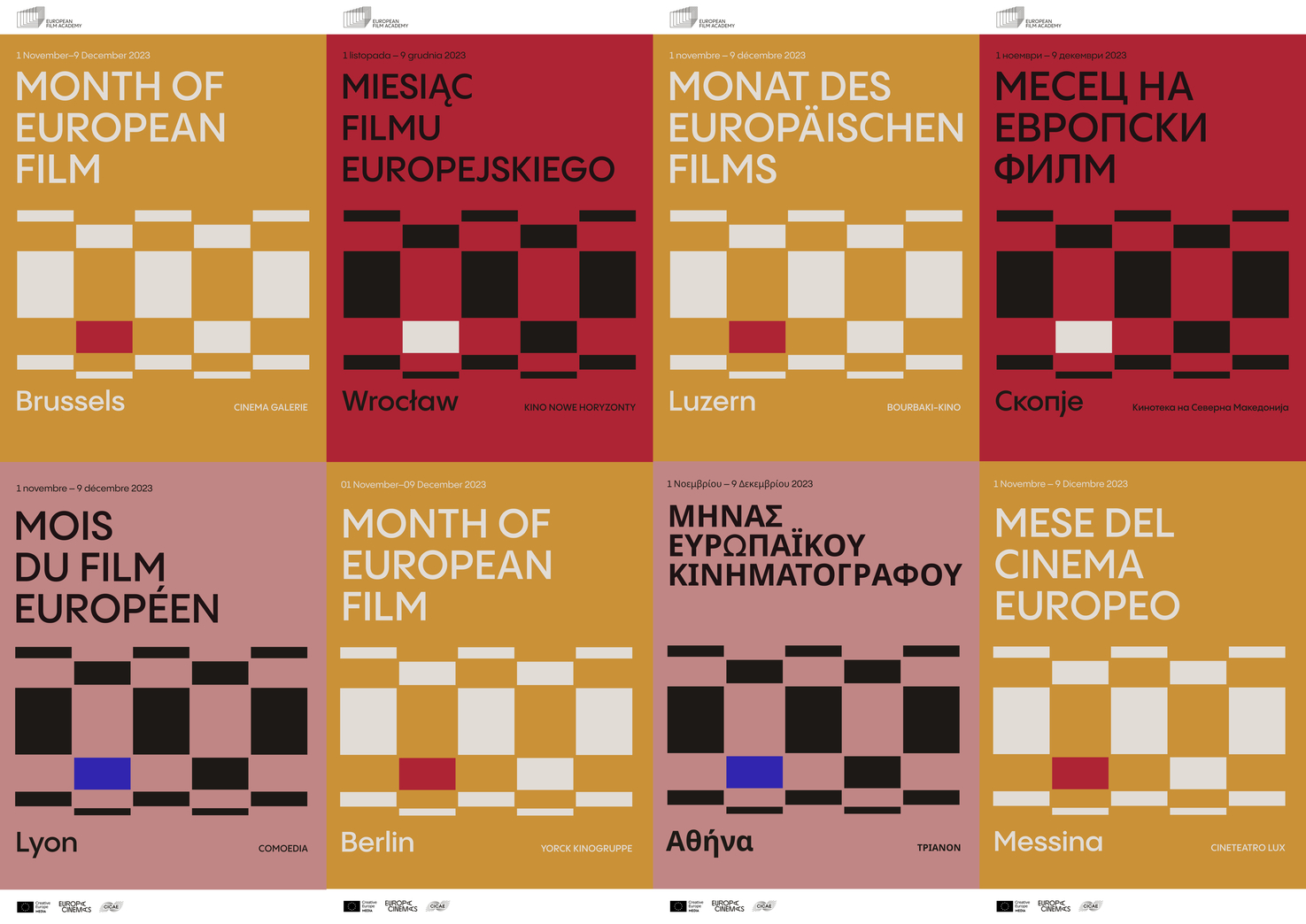 "With the Month of European Film, the Academy continues to build a network and a window for the simultaneous celebration of European cinema. After a great start in 2022 with 35 partners, it makes us proud to welcome a spectacular 75 partners in 2023. A large part of the community of theatres consists of arthouse cinemas curating smart programs with handpicked films that fit the curiosity and tastes of their local audiences. But this year also Pathé Switzerland has joined the initiative, with a Month of European Film in the Pathé Les Galeries cinemas in Lausanne. On top of this, several film festivals have aligned with our work and will be part of the programme: in Tbilisi and Thessaloniki, national cinematography centres, and film museums. For the first time, the Month of European Film includes partners in Albania, Georgia, Moldova, North Macedonia, Serbia and Turkey. It's great to see that in many countries we welcome more than one partner cinema, up to four in Italy, the Netherlands and Spain, and even five in Poland and Switzerland," says Matthijs Wouter Knol, CEO and Director of the European Film Academy.
During the Month of European Film, there will be a multitude of different initiatives. Instead of a uniform catalogue, each participating cinema is creating a unique program according to their expertise and catering to their audience's taste. All participating cinemas screen European films, many of these films included in the annual Academy Selection that is announced every year in various parts as of August. The programmes also include the films nominated for the LUX Audience Award 2024. Various screenings all over Europe are introduced by filmmakers and by enthusiastic members of the European Film Academy.
One of the highlights of the Month of European Film will be the Young Audience Film Weekend (4-5 November), during which the launch of the European Film Club will take place, followed by "Europe's Biggest Watch Party" of the film EVERYTHING WILL CHANGE. During the weekend, the three films nominated for the annual Young Audience Award will be announced.
The Month of European Film will also see the European Arthouse Cinema Day on 12 November, a project organised by CICAE, the international confederation of arthouse cinemas.
During the Month of European Film, many of the participating cinemas will focus on younger audiences: in Tirana (Albania), this means involving the Tirana Film Club during every screening and discussion. The young film-lovers will lead the Q&As and comment about the films after each screening. Cinema Zero in Pordenone (Italy) offers dedicated and moderated short film programmes for teenage school kids, while Arta in Cluj-Napoca (Romania) has school screenings of GOOD BYE LENIN! by Wolfgang Becker, THE SPIRIT OF THE BEEHIVE by Victor Erice, THE LIFES OF OTHERS by Florian Henckel von Donnersmarck and LA STRADA by Federico Fellini.
The Sphinx cinema in Ghent offers young audience screenings with Q&As as well as morning screenings that include breakfast and a special short film programme centred on grief, including an audience talk.
Audience engagement in general plays a major role for all participating cinemas. That can mean that a screening is followed by a community dinner and a conversation, in an evening focusing on brain injury, art and the struggle to find a way back to life (in Frederikssund, Denmark). Or a special LGBTQIA+ event around a screening of POLISH PRAYERS (LUX Arthouse in Lugano, Switzerland). Or a program of infant-friendly screenings for parents and their children (Kinodvor in Ljubljana, Slovenia). The Bio Central in Hralec Kralové (Czech Republic) will present a European Film Quiz and a special European drinks menu at the bar, Cineplex Loteanu in Chisinau (Moldova) presents a special program of short film candidates for the European Film Awards, Cinema Zero in Pordenone (Italy) screens PAW PATROL, followed by a "smart animation" workshop in the media library, and the Romuva in Kaunas (Lithuania) offers gastronomic cinema with a special lecture by a professional chef.
Many movie theatres will show retrospectives of renowned European filmmakers. There is a special focus on female European directors (Yorck Kinogruppe Berlin), an Agnes Varda retrospective (Tirana), a focus on Rainer Werner Fassbinder (Kinoteka Zagreb), a "Best of Besson" program (Kino Aero Prague), a special homage to Tilda Swinton (Kino Soprus Tallinn), an exhibition about German filmmaker Andreas Dresen and screenings of his films (Filmmuseum Potsdam), a Wim Wenders special (Visionario Udine), and a focus on Alain Resnais (Kundura Sinema, Istanbul).
A lot of movie theatres focus during the Month of European Film on films from a specific European country: There will be a Czech Film Week in Croatia, a French Film Festival in the Czech Republic, a French Film Week in Berlin, Spanish Film Days in North Macedonia and an Estonian Film Festival in Malta.
More initiatives and events can be found here: www.monthofeuropeanfilm.eu
The European Film Academy is delighted to continue its partnership with global film distributor, streaming service and production company, MUBI to celebrate the Month of European Film. From 1 November, MUBI's streaming platform will feature a spotlight on 100 European films. The documentary VOD portal DAFilms will at the same time celebrate European documentaries with a selection of 30 titles. The European Film Academy welcomes DAFilms as a new partner to the Month of European Film.
Finally, the Month of European Film culminates on 9 December with the 36th European Film Awards in Berlin.
The Month of European Film will continue to grow every year to include more and more places and ways for film enthusiasts to join in this great celebration of European films. The aim of the Month of European Film is to create an European film season in the upcoming years, encourage audiences to actively participate and convince rights holders and key industry players to help enable a synchronised and joint celebration of European cinema in a crucial time of the year.
The Month of European Film is an initiative of the European Film Academy supported by the Creative Europe MEDIA Programme of the European Union, in cooperation with Europa Cinemas, CICAE, MUBI and DAFilms as well as numerous local partners.