Countdown for the European Film Awards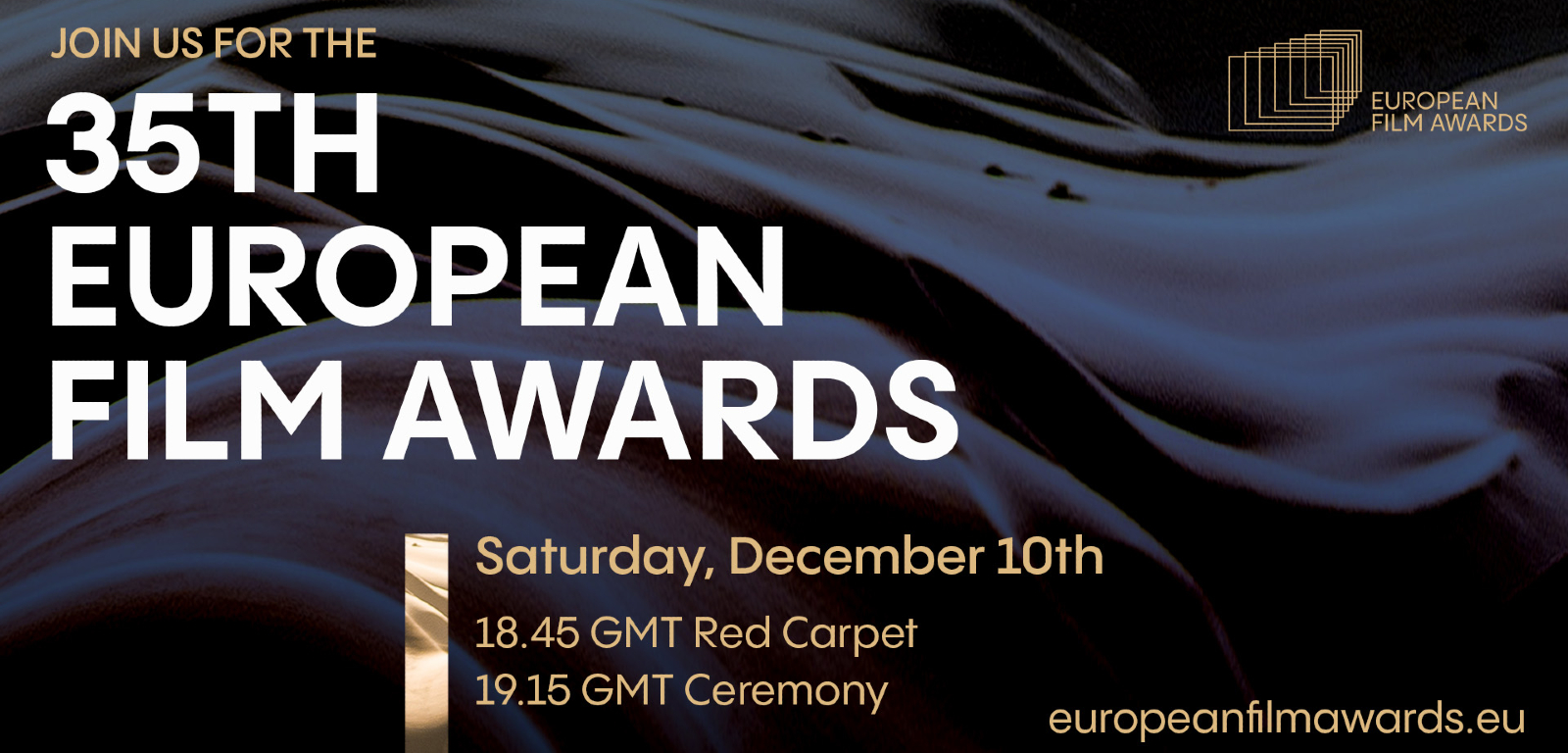 This Saturday, 10 December 2022, the 35th edition of the European Film Awards will take place in the Icelandic capital of Reykjavík. Many prominent guests from across Europe are expected at the yearly celebration honouring the greatest achievements in European cinema. The festive gala will take place at the Harpa concert hall, whose façade has been designed by world renowned Danish-Icelandic artist Ólafur Elíasson. Icelandic actress, screenwriter and politician Ilmur Kristjánsdóttir and Icelandic artist, author and stand-up comedian Hugleikur Dagsson welcome the approximately 1200 guests as masters of ceremony.
Presenters during the evening will be, among others: Spanish actor and singer Carlos Areces, Bulgarian actress Maria Bakalova, French-Algerian actor Dali Benssalah, Danish actor Nikolaj Coster-Waldau, Greenlandic singer and actress Nukâka Coster-Waldau, Lithuanian actress Ingeborga Dapkūnaitė, German actress Nina Hoss, Spanish singer, actress, writer and LGBTQIA* advocate Jedet, Swiss artist and actress Kayije Kagame, Icelandic director Baltasar Kormákur, Ukrainian-born actress Ivanna Sakhno, German actor Albrecht Schuch, Bosnian director Jasmila Žbanić and Italian actor Lorenzo Zurzolo. The Icelandic Symphonic Orchestra, the multifaceted music collective INNI as well as Icelandic electronic music band GusGus will be the musical live acts of the evening.
The show will be broadcast in ten countries and live streamed by 36 partners in 24 countries. Please find an overview here. The gala starting at 19.15h (GMT) will also be streamed at europeanfilmawards.eu.
Notable guests include directors Marco Bellocchio (winner European Innovative Storytelling), Elia Suleiman (winner European Achievement in World Cinema) and Margarethe von Trotta (winner European Lifetime Achievement), nominated actors and actresses Zlatko Burić (nominee European Actor: TRIANGLE OF SADNESS), Elliott Crosset Hove (nominee European Actor: GODLAND), Eden Dambrine (nominee European Actor: CLOSE), Pierfrancesco Favino (nominee European Actor: NOSTALGIA), Meltem Kaptan (nominee European Actress: RABIYE KURNAZ VS. GEORGE W. BUSH) and Léa Seydoux (nominee European Actress: ONE FINE MORNING), nominated directors Ali Abbasi (nominee European Film, Director and Screenwriter: HOLY SPIDER), Lukas Dhont (nominee European Film, Director and Screenwriter: CLOSE), Alice Diop (nominee European Director: SAINT OMER), Marie Kreutzer (nominee European and Director: CORSAGE), Ruben Östlund (nominee European Film, Director and Screenwriter: TRIANGLE OF SADNESS), Carla Simón (nominee European Film: ALCARRÀS) and Jerzy Skolimowski (nominee European Director: EO). Please find more guests here.
The artistic director of the award ceremony is Icelandic musician, producer and TV host Unnsteinn Manuel Stefánsson, the musical director is Berlin-based musician and composer Kriton Klingler-Ioannides.
The nominees and celebrity guests will enter Harpa via a unique art installation created especially for the European Film Awards. Instead of a traditional red carpet that would have had to been shipped from abroad, Icelandic artists Tanja Levý, Lilý Erla Adamsdóttir and Sean O'Brien created a sustainable Art Carpet made from local products and materials to reduce the carbon footprint. The architecture of Harpa, where the award ceremony will take place, is inspired by Icelandic nature and the structure is based on columnar basalt. Therefore, the artists decided that the art carpet should bring the unique Icelandic nature within the walls of Harpa. The inspiration for the Art Carpet is drawn from the uniqueness of the Icelandic landscape, for example lava fields covered with wooly fringe moss. This special moss makes the landscape look unearthly. The artists put emphasis on capturing the otherworldly elements from nature with variety methods, for example tufting Icelandic wool, using geotextiles and saw dust. The installation is designed to have a second life and will be used for other events as well.
The European Film Awards are presented in 26 categories. 16 winners have already been announced, the winners of the main categories will be revealed during the award show: European Film, European Comedy, European Discovery – Prix FIPRESCI, European Documentary, European Animated Feature Film, European Short Film, European Director, European Actress, European Actor and European Screenwriter. Please find the nominees here.
The ceremony of the European Film Awards – the most renowned and prestigious award for European film – is presented by the European Film Academy and European Film Academy Productions.