20 Dec 2022
"In Memoriam": Remembering, Discovering and Embracing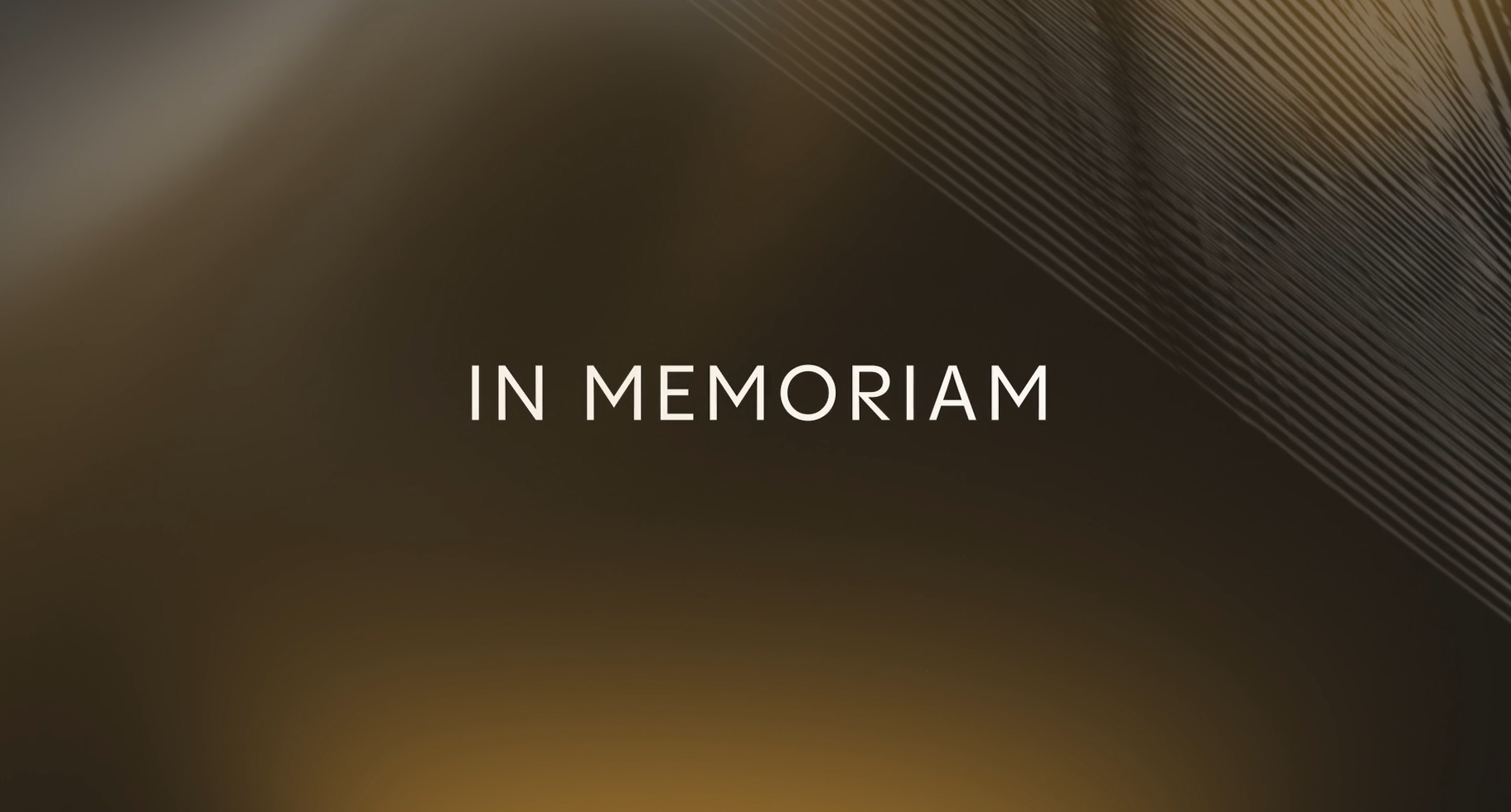 For the first time, this year's European Film Awards ceremony (10 December 2022) included an "In Memoriam", a sequence to look back and remember colleagues and friends who have passed away in the previous 12 months. Even though with the best of intentions, such a sequence has, of course, its limitations. It only allows a couple of glimpses and never truly and adequately honours the achievements of all deceased fellow-filmmakers from across Europe. Still, it is of crucial importance for the European Film Academy to embrace European film history and the people who have made European film what it is today. To us, it is what defines a true community. 
In the past year, this has meant embarking on a journey only possible because of a network we have been building up since this Summer and continue to extend; a network that includes film archives and cinematheques, film academies and institutes. Without the support of the knowledgeable, well-connected, and passionate people in all these different places where European film heritage is guarded, any endeavour to come to a representative list would have been impossible.
"In Memoriam" allows us to remember some of the great faces and forces in European film. It also gives us the chance to discover people we might not have known before. European cinema is about getting to know each other, sometimes even beyond a lifetime. This is an important process if we aim to arrive at a shared European film heritage.
Among the colleagues who passed away since last year's European Film Awards are actors and actresses who need no introduction, faces that have shaped European film. Some are from the bigger countries and maybe more widely known, like Robbie Coltrane, Verónica Forqué, Hardy Krüger, Jean-Louis Trintignant and Monica Vitti, others are possibly mainly famous nationally such as Eunice Muñoz from Portugal, Irene Papas from Greece, Barbara Krafftówna from Poland, and Anneli Sauli from Finland. We have made no distinction and it was imperative to us to include both.
The "In Memoriam" also, of course, includes prolific directors, both mainstream and avantgarde, such as Lina Wertmüller, Erden Kiral, Heddy Honigmann, Julien Vrebos, Roviros Manthoulis, Herbert Achternbusch, Alain Tanner and Reinhard Schwabenitzky, to name but a few.
This list would not be complete without us honouring screenwriters, designers, cinematographers, and other film professionals who were dedicated to film and who have passed away, among them production designer Andreas Sobotka, cinematographer Venets Dimitrov, screenwriter Wolfgang Kohlhaase and costume designer János Breckl.
We have also included people known almost exclusively to those within the film industry, like festival directors Vjosa Berisha (PriFest – Prishtina IFF) and Eva Zaoralová (Karlovy Vary IFF), or José Ángel Herrero-Velarde, festival programmer in San Sebastian for 40 years, film historian Ralf Schenk whose great interest has always been in the cinematic voices from Eastern Europe, and Gorjan Tozija, head of the Macedonian Film Agency for many years. Their life and work were crucial for the accessibility and visibility of European cinema today, sometimes local but with an impact all over the continent.
On the search for their portraits, we depended particularly on our partners in the European film heritage network. Our friends at Unifrance were so kind as to direct our attention to Laurence Doumic Roux, daughter of the late Philippe R. Doumic who accompanied the French Nouvelle Vague and took some of its members' most emblematic portraits, of Jean-Luc Godard and others. Herself a filmmaker, Laurence made a documentary about her father (if you're curious, see a trailer in French)
Each of the people in this year's "In Memoriam" tells through their life a story of European film. They tell the stories of talent and success, but also of perseverance, illness, oblivion. The people who left us this year could look back on a fulfilled life, or were taken away too early, unexpectedly, through violence. As a community caring about each other, and our work in European film, we don't want to let them go unmentioned.
Allow us to mention a few more in particular:
The young French actor Gaspard Ulliel who died after a tragic ski accident in the beginning of the year, and it's difficult to fathom the great lengths his work would've carried him. 
The Latvian pioneer Rolands Kalniņš who passed away at the age of 100. His FOUR WHITE SHIRTS, which captures so well the longing for freedom of the 1960s, was banned under Soviet censorship, finally re-discovered in Cannes. (it can now be watched online in its original language, Latvian, with English and French subtitles). 
Veteran Hungarian director Lívia Gyarmathy is the only two-time winner of a European Film Award in this list, one in 1989 for the documentary RECSK 1950-1953 (together with her co-director Geza Böszörményi) and the other in 2000 for the short film OUR STORK.
The cruel reality of the war in Ukraine also caught up with us putting together this list – with the young actor and TV host Pasha Lee who died in battle and with Mantas Kvedaravicius, the Lithuanian director who was shooting a war documentary and was killed leaving the city of Mariupol.
We are reminded of Belgian rock musician-turned-film-composer Arno and Andrzej Korzyński who wrote the score for countless Polish films, among them Andrzej Wajda's MAN OF MARBLE, as well as Vangelis from Greece, the famous pioneer of instrumental music who created such unforgettable scores as the one for BLADERUNNER, and Monty Norman (UK) who composed the legendary James Bond theme music.
Croatian director, animator, and caricaturist Borivoj Dovniković Bordo, who won a Silver Berlin Bear in 1968 with his short film KREK, was a key figure of the Zagreb animation school and one of the founders of Animafest in Croatia.
Elspeth Taveres was the founder, publisher and editor-in-chief of "The Business of Film", an independent film industry trade publication founded in 1980.
The list is still much longer. It is an invitation to everyone reading this and watching the "In Memoriam" to remember and embrace the stories connected to all the people who were a part of European cinema. Gone, yet not forgotten, our community wishes to celebrate and salute them all.