02 Mar 2022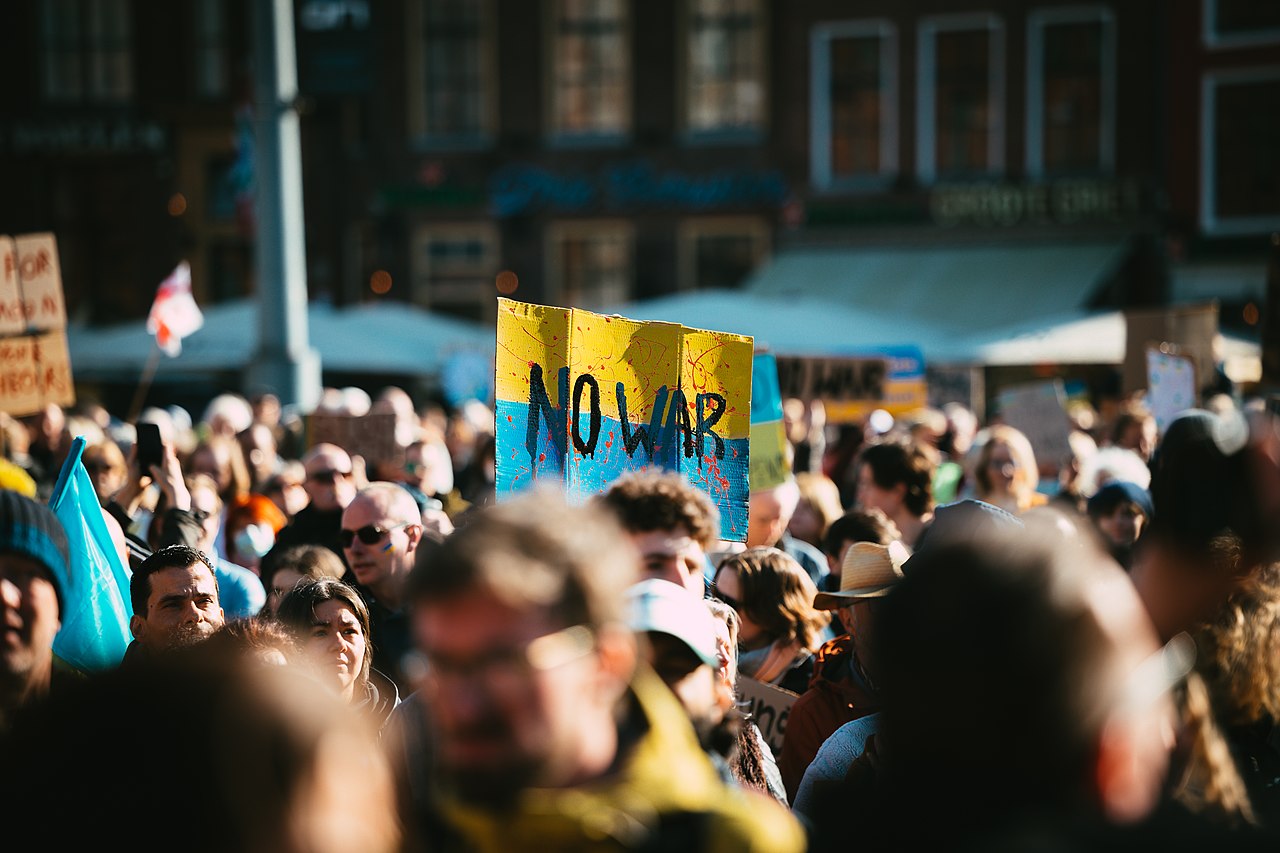 We, members of the European Film Academy, declare our strongest protest and unequivocal opposition to the Russian military aggression against the independent sovereign country of Ukraine. We express our solidarity with the people of Ukraine and say NO to war. We demand Russia to halt immediately all military activities in Ukraine.
– scroll down for Russian translation –
Signatories
Lenny Abrahamson, director, Ireland
Peter R. Adam, editor, Germany
Marina Aebi, hair & make-up artist, Switzerland
Josef Aichholzer, producer, Austria
Greta Akcijonaitė, distributor/exhibitor, Lithuania
Aleksandar Aleksiev, actor / producer, Bulgaria
Eleni Alexandrakis, director, Greece
Michael Algar, producer, Ireland
Nariman Aliev, director, Ukraine
Alessandro Amato, producer, Italy
Anna Anosowicz, production designer, Poland
Dag Asbjørnsen, Norwegian Film Institute, Norway
Victor Asliuk, director, Belarus
Emily Atef, director, Germany
Markus Aust, composer, Germany
Marion Bailey, actress, UK
Julie Baines, producer, UK
Árpád Barta, director, Hungary
Isolde Barth, actress, Germany
Piotr Bartuszek, casting director, Poland
Meret Becker, actress, Germany
Martin Behnke, screenwriter, Germany
Jacob Berger, director, Switzerland
Gunnar Bergdahl, critic / journalist, Sweden
Fatos Berisha, festival, Kosovo
Vjosa Berisha, director Prishtina IFF, Kosovo
Alexander Berner, ediktor, Germany
Frank Berry, director, Ireland
Paolo Bertolin, festival, Italy
Gints Berzins, cinematographer, Latvia
Rok Biček, director, Slovenia
Katharina Bildhauer, institutional, Germany
Marta Billingsley, sound designer, Italy
Nancy Bishop, casting director, UK
Laura Bispuri, director, Italy
Sabine Böbbis, costume designer, Germany
Michael Boehme, producer, Germany
Germen Boelens, producer, The Netherlands
Bettina Böhler, editor, Germany
Henrich Boráros, production designer, Czech Republic
Marcin Borchardt, director, Poland
Lilette Botassi, producer, Greece
Eliane Esther Bots, director, The Netherlands
Frank Braun, distributor/exhibitor, Switzerland
Sonora Broka, artistic director Riga International Film Festival, Latvia
Peter Brosens, director, Belgium
Welket Bungué, actor, Portugal
Manuela Buono, int'l sales agent, Italy
Elisabeth Burghardt, screenwriter, Germany
Gaia Bussolati, visual effects supervisor, Italy
Miguel Cadilhe, producer, Portugal
Inti Carboni, producer, Italy
Sehad Čekić, producer, Montenegro
Daniel Chabannes de Sars, distributor/exhibitor, France
Luigi Chimienti, producer, Italy
Stéphanie Chuat, screenwriter, Switzerland
John Collee, screenwriter, Australia
Federico Conforti, editor, Italy
Tom Conroy, production designer, Ireland
Tilde Corsi, producer, Italy
Florian Cossen, director, Germany
Gary Cranner, producer, Norway
Stefano Cravero, editor, Italy
Sergiu Cumatrenco Jr., producer, Moldova
Roberto Cuzzillo, director, Italy
Emilia Czartoryska, costume designer, Poland
Piotr Czerkawski, critic / journalist, Poland
Oliver Damian, producer, Germany
Robert Dassanowsky, institutional, Austria
Pierre De Clercq, screenwriter, Belgium
Prof. Dr. Cathy de Haan, institutional, Germany
Mieke de Jong, screenwriter, The Netherlands
Natalia De Molina, actress, Spain
Jason de Ridder, actor, The Netherlands
Paolo Del Brocco, producer, Italy
Ilya Demutsky, composer, Russia
Dominique Deruddere, director, Belgium
Mark Devine, producer, UK
Evgenia Dodina, actress, Israel
Christine Dollhofer, festival, Austria
Agron Domi, festival, Albania
Walter Donohue, screenwriter, UK
Marion Döring, institutional, Germany
Jan Drbohlav, scriptwriter, Czech Republic
Ellis Driessen, int'l sales agent, The Netherlands
Alen Drljevic, director, Bosnia and Herzegovina
Riton Dupire-Clément, production designer, France
Trine Dyrholm, actress, Denmark
Marianna Economou, documentary filmmaker, Greece
Satu Elo, institutional, Luxembourg
Gustavo Ferrada Lavall, producer, Spain
Milena Fessmann, producer, Germany
Olmo Figueredo González-Quevedo, producer, Spain
Urte Amelie Fink, producer, Germany
Beatrice Fiorentino, critic / journalist, Italy
Živilė Gallego, producer, Lithuania
Giuseppe Gallo, producer, Italy
Loreta Gandolfi, festival, Italy
Dennis Gansel, director, Germany
Julia Gebauer, producer, Sweden
Halldóra Geirharðsdóttir, actress, Iceland
Lina Geissmann, producer, Switzerland
Cyril Gély, screenwriter, France
Alise Ģelze, producer, Latvia
Krzysztof Gierat, director Krakow Film Festival, Poland
Prof. Zuzana Gindl-Tatárová, screenwriter, Slovakia
Marcel Gisler, director, Switzerland
Srdan Golubovic, director, Serbia
Anna Gorońska, hair & make-up artist, Poland
Detsky Graffam, director, Germany
Erika Gregor, institutional, Germany
Ulrich Gregor, institutional, Germany
Rajko Grlić, director, Croatia
Ágúst Gudmundsson, director, Iceland
Producers Guild of Poland, organization, Poland
Linda Hambäck, producer / director, Sweden
Birgitte Hald, producer, Denmark
Cassandra Han, casting director, Germany
Henk Handloegten, director, Germany
Paul Harather, director, Austria
Anna Sofie Hartmann, director, Germany
Lilia Hartmann Trapani, casting director, Italy
Susanna Harutyunyan, institutional, Armenia
Stefan Haupt, director, Switzerland
Vanessa Henneman, talent agent, The Netherlands
Hans Herbots, director, Belgium
Astrid Heubrandtner, cinematographer, Austria
Jan Erik Holst, film critic / historian, Norway
Duane Hopkins, director, UK
Ceri Hughes, institutional, United Kingdom
Tamás Hutlassa, producer, Hungary
Damir Ibrahimovic, producer, Bosnia and Herzegovina
Maria Iliou, director, Greece
Stefano Incerti, director, Italy
Peter Indergand, cinematographer, Switzerland
Luis Ivars, composer, Spain
Andrzej Jakimowski, director, Poland
Paula L. Jalfon, producer, UK
Krzysztof A. Janczak, composer / producer, Poland
Carl Javér, director, Sweden
Grímar Jónsson, producer, Iceland
Neil Jordan, director, Ireland
Inuk Jørgensen, director, Greenland
Beso Kacharava, sound designer, Georgia
Vilnis Kalnaellis, producer, Latvia
Henning Kamm, producer, Germany
Dušan Kasalica, director, Montenegro
Hanka Kastelicova, producer, Czech Republic
Mika Kaurismäki, director, Finland
László Kántor, producer, Hungary
Tolga Karaçelik, director, Turkey
Maciej Karpinski, screenwriter, Poland
Andy Kemp, BFE, United Kingdom
Ademir Kenovic, director, Bosnia and Herzegovina
Andriy Khalpakhchi, festival, Ukraine
Ilya Khrzhanovsky, director, Russian Federation
Izabela Kiszka-Hoflik, producer, Poland
Stefan Kitanov, producer, Bulgaria
Rainer Klausmann, cinematographer, Switzerland
Frauke Kolbmüller, producer, Germany
Kristina Kolytė, casting director, Lithuania
Stephan Komandarev, director, Bulgaria
Victor Kossakovsky, director, Russia
Thomas Krag, editor, Denmark
Marek Kráľovský, editor, Slovakia
Jurģis Krāsons, director, Latvia
Christoph Krauss, cinematographer, Germany
Zuzana Kronerová, actress, Slovakia
Denis Krupnov, producer, Russia
Anna Krupnova, int'l sales agent, Russia
Riina Kullas, CEO Moskito Television Oy, Finland
Domenico La Porta, critic / journalist, Belgium
Timo T. Lahtinen, producer, Denmark
Aet Laigu, producer, Estonia
Alain Layrac, screenwriter, France
Sarika Hemi Lakhani, producer, Germany
Janez Lapajne, director, Slovenia
Piotr Lenar, cinematographer, Poland
Rebecca Lenkiewicz, screenwriter, UK
Marcel Lenz, producer, Germany
Michal Leszczylowski, editor, Sweden
Vigdis Lian, institutional, Norway
Samir Ljuma, cinematographer, North Macedonia
Marco Lopez, sound designer, Cyprus
Tudor Lucaciu, cinematographer, Romania
Nicole Mackey, int'l sales agent, UK
Konstantin Malkin-Fam, producer, Russia
Alexandre Mallet-Guy, producer, France
Fabrizio Maltese, producer, Luxembourg
Annabelle Mandeng, actress, Germany
Marko Mandić, actor, Slovenia
Christopher P. Marcich, institutional, Croatia
Iván Marín Idiáquez, technician, Spain
Ivan Marinović, director, Montenegro
Petros Markaris, screenwriter, Greece
Ivan Marković, director, Germany
Gary Marlowe, composer, Germany
Elsa Martinez Portero, institutional, Spain
Fernando Martínez Sosa, editor, Spain
Diego Mas Trelles, director, Spain
Ulrich Matthes, actor, Germany
Michael Mayer, director, Israel
Fergal McGrath, editor, Ireland
Ilya Medovyy, producer, Estonia
Marco Mehlitz, producer, Germany
Stephen Melchiori, festival, France
Zviad Mgebry, composer, Georgia
Bernard Michaux, producer, Luxembourg
Ninos Feneck Mikelides, festival, Greece
Axel Milberg, actor, Germany
Barbara Miller, director / President Swiss Filmmakers Association, Switzerland
Jelena Mišeljić, producer, Montenegro
Labina Mitevska, actress, North Macedonia
Pandelis Mitropoulos, managing director Piece of Cake S.A., Greece
Jelena Mitrovic, producer, Serbia
Levente Molnár, actor, Hungary
Colin Monie, editor, UK
Cyril Morin, composer, France
Niki Mossböck, editor, Austria
Philipp Mosser, sound designer, Austria
Bogdan Mureşanu, director, Romania
Lynda Myles, producer, UK
Robert Naskov, producer, North Macedonia
Tino Navarro, producer, Portugal
Nazareno Manuel Nicoletti, director, Italy
Egon Nieser, distributor/exhibitor, Germany
Nikolaj Nikitin, curator, lecturer and media expert, Germany
Stephen O'Connell, editor, Ireland
Christina Olofson, director, Sweden
Joachim Ortmanns, producer, Germany
Rune Palving, technician, Denmark
David Parfitt, producer, United Kingdom
Heike Parplies, editor, Germany
Uberto Pasolini, producer, UK
Angelo Pasquini, screenwriter, Italy
Alessandra Pastore, institutional, Italy
Feliks Pastusiak, producer, Poland
Markku Pätilä, production designer, Finland
Ales Pavlin, producer, Slovenia
Jure Pavlović, director / producer, Croatia
Elena Pedrazzoli, producer, Switzerland
Antonio Pérez Pérez, producer, Spain
Leontine Petit, producer, The Netherlands
Dr. Sotiris Petridis, screenwriter, Greece
Magdalena Petrović, producer, Croatia
Metod Pevec, director, Slovenia
Antonio Piazza, director, Italy
Marco Simon Puccioni, director, Italy
Krzysztof Pieczyński, actor, Poland
Marios Piperides, director, Cyprus
Jana Plodková, actress, Czech Republic
Anna Pomara, institutional, Italy
Andrey Ponkratov, production designer, Russia
Erik Poppe, director, Norway
Edward Porembny, producer, Poland
Corneliu Porumboiu, winter/ director, Romania
Beki Probst, distributor/exhibitor, Switzerland
Aiken Veronika Prosenc, producer, Slovenia
Carme Puig, institutional, Spain
María Luisa Pujol, director Fundación Aula de Cine Colección Josep M. Queraltó, Spain
Edvinas Pukšta, festival programmer, BLACK NIGHTS Film Festival, Estonia
Ulrika Rang, editor, Sweden
Fred L. Rebadulla II, Underground Moving Images & Sound LTD.
Øistein Refseth, distributor/exhibitor, Norway
Sophie Reiter, editor, France
Bettina Reitz, President HFF Munich, Germany
Véronique Reymond, director, Switzerland
Marina Richter, critic / journalist, Austria
Wolfgang Richter, director, Germany
Thomas Riedelsheimer, director, Germany
Katja Riemann, actress, Germany
Dita Rietuma, critic / journalist, Latvia
Stefania Rocca, actress, Italy
Annika Rogell, producer, Sweden
Esther Rots, director, The Netherlands
Christian Rouaud, director, France
Dennis Ruh, Director European Film Market, Germany
Rúnar Rúnarsson, director, Iceland
Lasse Saarinen, CEO Finnish Film Foundation, Finland
Giuseppe Saccà, producer, Italy
Kirsi Saivosalmi, producer, The Netherlands
Ivan Salatić, director, Montenegro
Renata Santoro, festival, Italy
Markéta Šantrochová, head of Czech Film Center, Czech Republic
Antonio Saura, int'l sales agent, Spain
Ralf Schenk, critic / journalist, Germany
Noemi Schory, producer, Israel
Prof. Dr. Andreas Schreitmüller, institutional, Germany
Uli M. Schueppel, director, Germany
Kenneth Scicluna, direcor, Malta
Carole Scotta, producer, France
Jürgen Seidler, writer, producer, Germany
Melih Selçuk, actor / director, Turkey
Eric Senat, producer, UK
Roberto Sessa, producer, Italy
Michael Sharfshtein, producer, Israel
Christopher Sheppard, Adventure Pictures, United Kingdom
Judy Shrewsbury, costume designer, France
Julietta Sichel, producer, Czech Republic
Oliver Simon, producer, Germany
Joshua Sinclair, screenwriter, Italy
Stellan Skarsgård, actor, Sweden
Marko Škop, director, Slovakia
Nebojša Slijepčević, director, Croatia
Marleen Slot, producer, The Netherlands
Ineke Smits, director, The Netherlands
Marcin J. Sobczak, int'l sales agent, Poland
Britt Sørensen, film critic, Norway
Mimmi Spång, producer, Sweden
Jan Speckenbach, director, Germany
Pierre Spengler, producer, UK
Prof. Heiner Stadler, director, Germany
Andrea Štaka, director, Switzerland
Mira Staleva, festival/producer, Bulgaria
Sylvia Steinbrecht Aleix, production designer, Spain
Ilya Stewart, producer, Russia
Milan Stojanović, producer, Serbia
Karsten Stöter, producer, Germany
Pavel Strnad, producer, Czech Republic
Gabriela Suciu, producer, Romania
Jenna Suru, Paris IFF, France
Virpi Suutari, director, Finland
Károly Szalai, editor, Hungary
Magdalena Szwarcbart, casting director, Poland
Spiro N. Taraviras, director / producer / screenwriter, Germany
Andrea Taschler, producer, Hungary
Elma Tataragić, screenwriter / festival programmer, Bosnia and Herzegovina
Stefano Tealdi, producer, Italy
Anders Teigen, film editor, Norway
TEMPO – Federation of Film Editors Associations
Alex Teodorescu, producer, Romania
Job ter Burg, editor, The Netherlands
Jani Thiltges, producer, Luxembourg
Marteinn Thorsson, director/producer/writer, Iceland
Lauri Tilkanen, actor, Finland
Barbara Toennieshen, editor, German
Kari-Pekka Toivonen, actor, Finland
Grażyna Torbicka, festival, Poland
Liene Treimane, Director Riga International Film Festival, Latvia
Giorgio Treves, director, Italy
Fien Troch, director, Belgium
Yorgos Tsemberopoulos, director, Greece
Viacheslav Tsvietkov, cinematographer, Ukraine
Ivan I. Tverdovskiy, director, Russia
Rossitsa Valkanova, producer, Bulgaria
Rudolf van den Berg, director, The Netherlands
Frank van den Eeden, cinematographer, Belgium
Raymond van der Kaaij, producer, The Netherlands
Nicole van Kilsdonk, director, The Netherlands
Martin Vandas, producer, Czech Republic
Patrick Veigel, sound designer, Germany
Francesco Virga, Producer, Italy
Ivan Vladimirov, director, Bulgaria
Rüdiger Vogler, actor, Germany
Catrin Vogt, editor, Germany
Prof. Claudia von Alemann, director / professor / producer, Germany
Achim von Borries, director, Germany
Gregory von Hausch, President & CEO Cinema Paradiso Releasing, USA
Tihomir Vrbanec, sound designer, Croatia
Peter Webber, director, UK
Anja Wedell, producer, Germany
Suvi West, director, Finland
Catrin Wideryd, casting director, Sweden
Prof. Martin W. Wiebel, producer, Germany
Michael Wiedemann, institutional, Germany
Noortje Wilschut, producer, The Netherlands
Martijn Winkler, screenwriter/director/producer, The Netherlands
Olle Wirenhed, producer, Sweden
Arkadiusz Wojnarowski, producer, Poland
Jasper Wolf, cinematographer, The Netherlands
Edgar Wright, director, United Kingdom
David Yates, director, UK
Gary Yershon, composer, UK
Lyubo Yonchev, director, Bulgaria
Christopher Young, producer, UK
Romas Zabarauskas, director, Lithuania
Flaminio Zadra, producer, Italy
Jasmila Žbanić, director, Bosnia and Herzegovina
Wiktor Zborowski, actor, Poland
RUSSIAN TRANSLATION:
Мы, члены Европейской Киноакадемии, выражаем наш безусловный протест военной агрессии Российской Федерации по отношению к суверенному независимому государству Украина. Мы выражаем свою солидарность с жителями Украины и говорим решительное НЕТ войне. Мы требуем от российского руководства немедленной остановки всех военных действий.