A Dreamlike (and Film-Like) Summer With the European Film Academy
The European Film Academy gets ready for its 32nd prizes. We unravel you first-hand another of the EFA's most emblematic events: three days of cinema at the exuberant Owl Montains (Poland)
An incoming email reminds me that what happened last summer was for real. "Each time I hear the word 'tortilla' I think of you. Here in Berlin, we are already preparing the announcement of this year's nominees. Fancy a beer before the SEFF (Seville European Film Festival) opening?". The sender is none other than Pascal Edelmann, Head of Press & PR of the European Film Academy (EFA).
Once again, Edelmann comes to Seville to announce the nominees of the EFA awards. He is more than just the person in charge of letting the whole of Europe know which are the nominated European films each year. Every summer, he also adds another group of ten young European journalists to the growing family of this emblematic EFA event: A Sunday in the Country.
Owl Mountains: nature like something out of a film
It is July and we have come from all over Europe; and even from beyond the ocean. Georgiana Mușat (Rumania), Klaudia Rachubińska and Maciej Kryński (Poland), Marian Wilhelm (Austria) Márton Mészáros (Hungary) Sergio Sozzo (Italy), Stanislas Ide (Belgium), Tommaso Tocci (Italy) and myself, Alejandro Ávila (Spain), whose presence wouldn't have been possible without the support of the ICAA (Spanish Institute for Film-Making and Audiovisual Arts).
Together with two exceptional people — Pascal Edelmann from Germany and Ula Śniegowska from Poland — our big host is the European Film Academy; and a magnificent hundred-year-old mansion, our home for the next three days. We are a bunch of young European film critics proud to have been chosen by the Academy to meet some of the most trail-blazer filmmakers of the moment. And what at a unique setting: the stunning Owl Mountains in Poland.
Surrounded by clumps of European pine trees, our mansion stands picturesquely. The manor has rooms laid out over its three floors, an impressive hardwood hall, a cosy dining room with brickwork, parquet and an open kitchen, a terrace, and the room where we'll be enjoying some of the most prestigious European films of the festival season: an inviting living room transformed into our own private cinema.
"Filmmaking is an existential adventure"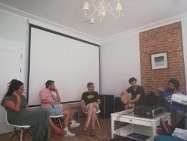 The plan is dreamlike: sharing experiences with fellow journalists who know the world's most prestigious festivals like the back of their hand. And so do our guests. Berlinale, Cannes or Sundance are some of the festivals where they have had the chance to present their work. In a more relaxed atmosphere, they find the opportunity of sharing experiences with the critics, and revealing to them that "filmmaking is an existential adventure, a living process, a game."
Some critics come from the academic sphere, others run film magazines, and the most fortunate ones have become nomads who wander from festival to festival. But all of them, without exception, are absolutely passionate about cinema and working out its secrets, even those hidden from their own creators.
"Being a critic implies revealing the puzzle pieces which make up a film"
"Being a critic implies revealing the puzzle pieces which make up a film", reflects Tommaso Tocci, the enthusiastic Italian expert in charge of giving us the key points of the four films we'll be watching along these three days.
Agnieszka Smoczynska: a close relationship with the critics
Agnieszka Smoczynska has a very special connection with some film critics. The relationship is so close and full of trust, that she even sends them the scripts before starting the shooting. Sitting at a relaxed lunch table in the mansion's splendid garden, while enjoying a delicious dish of pasta with salmon and tabbouleh, the Polish director —who has one of the most brilliant careers of the European scene, thanks to her successful film THE LURE — confides to us that her trusted critics helped her understand what she was doing, which was very useful when writing the script.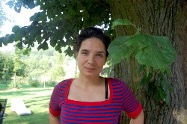 A perfect example of this closeness is that, when working on her latest film FUGUE, these critics made her realise that the main character was "somehow, the ghost that returns to visit her family for the last time. My mother had just died and I, unconsciously, was mourning her through the story of my film". Different to the humor on her previous film —a mix of terror and musical genres—, in her latest work, the director embarks on an intimate journey towards grief and loss.
The Polish filmmaker —who has filmed two episodes of WARRIOR NUN, the Netflix series shot in Andalusia— is already halfway to Hollywood. During our pleasant chat, she confesses that she is working on a film about two sisters which combines terror with psychological drama. A true story that will be shot in English, between the United States, Poland and the United Kingdom.
Sacha Polak: high class cinema
We feel overwhelmed by this beautiful restored mansion, part of the historical heritage. Spending some days at this masterpiece is an absolute privilege. And so is finding the director Sacha Polak cooking for us along with Tommaso and Ula Śniegowska after watching her film DIRTY GOD in our first session.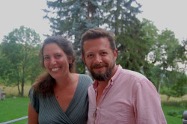 The Dutch filmmaker has just presented her film at festivals such as Sundance or New Horizons in Wroclaw (Poland). It tells the shocking story of a young mother disfigured by an acid attack perpetrated by her ex partner. The value of the film takes on an even greater meaning as it is inspired on the leading actress' life, who suffered serious skin burns at the early age of eight years.
Cruelty, humiliation, and the struggle to recover from the scars of a fire are the ingredients used by Polak to create her third feature film; all of them taken from the brutal experiences of the leading actress. "Actors have a huge impact on the film you've imagined", confides the Dutch director, who, by the end of the day, has managed to win everyone's complicity and affection.
"Actors have a huge impact on the film you've imagined"
At the evening chat with the A Sunday in the Country participants, she finds out that Tommaso is about to turn 37. Straight away she and myself embark on a night mission to find a birthday cake and some candles by midnight. Thanks to her willpower, her resourcefulness, and a bit of good luck, our mission is accomplished. A multi-lingual "happy birthday" song, some pieces of cake and a great deal of laughing seal a friendship that surely will last festival after festival.
The Greek version of Marshland
Our little mission takes place late at night, some hours after having enjoyed our second film session: THE MIRACLE OF THE SARGASSO SEA, by Syllas Tzoumerkas. The Greek director sets his dark story in a marsh, whose mystery, dark side and thriller with a local touch strongly reminds us of MARSHLAND, and sometimes also of THE FURY OF A PATIENT MAN.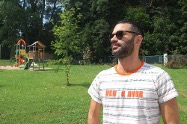 That marshland is the hidden spot where a tough superintendent from Athens — the main character of THE MIRACLE OF THE SARGASSO SEA — ends up, after being threatened by a terror group. The disrupted editing emphasizes the fate in a winding thriller with a bitter aftertaste. To Tzoumerkas, that entangled nonlinear narrative is a fundamental hallmark of his work. "If we didn't make this kind of disjointed films, cinema would not move forward. Making compact films is just too simple".
Unexpectedly, Sacha and Syllas together share impressions with us. They both agree that trying to find a compromise between auteur and commercial cinema is a big mistake. Syllas believes that his film might have got stuck at that difficult crossroad of "commercial thriller and festival film". However, what really astonishes him is the wide variety of reactions his film causes depending only on the country where it is screened.
Gabriel Mascaro's DIVINE LOVE
The icing on the cake of these three days of cinema couldn't have a more appropriate title: DIVINE LOVE, by the Brazilian director Gabriel Mascaro. Before its screening in our cosy home cinema, our — since then — favourite Italian critic, Tommaso Tocci, describes the film as "wonderful, pink and sexy". Electronic music, sex and brilliant pastel colours take us to a kitsch Brazilian version of series like YEARS AND YEARS or BLACK MIRROR, where divine love has replaced carnival as a frenetic and collective ritual.
Sex, pleasure and orgies become part of the religious ritual led by a priestess. Despite its modern and liberal appearance, there is a very reactionary and male chauvinist heart: the woman as a mere sperm recipient. Sex —as in the old days— has solely a procreative purpose.
Mascaro surprises us with a dystopia full of imagination and crazy tech-ideas, creating a disturbing atmosphere somewhere between drama, comedy and terror.
We have the chance to converse with the director during the very last evening. Mascaro talks animatedly about his film in the mansion dining room, while this journalist turns to the popular cooking cliché by preparing a couple of Spanish omelettes. The same omelettes Pascal Edelmann would still remember some months later.
It is indeed a Spanish omelette, but with a lot of onion in it; an omelette that the Brazilian filmmaker would diligently serve before starting his speech. After these three intense days together, we are all visibly tired but happy. Mascaro's words boom passionately in the dining room while I fry my potatoes in so much olive oil that some people even get scared.
The Brazilian director tells us how, during its premiere in Sundance, the film was interpreted from "a very political perspective, since it happened to coincide with Bolsonaro's victory in the national elections". In his book "Triumph of Fear: The Geopolitics of TV Series", Dominique Moïsi describes how screenwriters find inspiration in popular feelings and reflect them in their scripts.
"My film shows a popular feeling; I didn't come up with it randomly"
Mascaro went through a very similar process when writing this film some years before Bolsonaro gained power: "My film shows a popular feeling; I didn't come up with it randomly".
Both Mascaro and his film share a great sense of humour: "I told a fellow filmmaker that I was going to spend some days on the countryside with a group of critics and his answer was: What a nightmare!" Straight away he bursts out laughing.
That last night, despite being so tired, our will to make the most of this incredible experience brings us into a better mood, fueled by the last spirits supplies each of us brought with us. That night, we go to bed feeling that we've found a new family. A European family. A family like something out of a film.